When packing your polos and pashminas, there's no reason to leave your passions and pursuits behind. Your eye for impressionist brushstrokes - bring it along. Your appreciation for a well-crafted Pilsner - no need to leave it behind. Your insatiable appetite for the world's most fascinating chapters of history - you can pack that too. From food and wine to art, history, and music, our Special Interest Cruises unite you with your pastimes-and other like-minded enthusiasts - both on the ship and off.
Wine Appreciation River Cruises
Your palate will applaud as you learn what to look for in a good wine. A distinguished wine authority will teach you the ropes as you visit a wine village and attend tastings to test your newfound talent.
Enter a food-lover's paradise in northern France. At a special dinner, a local chef will dazzle you with regional specialties and food preparation tips. If you participate in our "Taste of Normandy" excursion, there'll be cider and wine tastings, a visit to a distillery, and you'll even come away with easy-tomake recipes. Bon Appétit!
A visit to Europe is even better when it includes a discovery of their famous beers, and these special Avalon departures deliver just that! Activities may include onboard tastings, visits to historic breweries, and fascinating lectures on board about a range of topics including European beer-brewing techniques. Prost!
Music & Jazz River Cruises
Let the music move you on Avalon's special music and jazz departures. Our Music cruises includes excursions to a classical concert in Vienna, a visit to Mozart's Salzburg birthplace, and the countryside where "the hills are alive with the sound of music." You will also have free time in Vienne, France, during its world-renowned Jazz Festival.
Art & Impressionist River Cruises
Experience scenic northern France with a focus on art! Attend an illuminating art lecture by a subject expert on board your Avalon ship. On shore, explore art museums, and visit the places and sites that inspired some of the world's most famous artists, such as Auvers-sur-Oise, Rouen, Giverny, and, of course, Paris - the inimitable "City of Light."
Take a river cruise through history! These fascinating European history and politics river cruises will give you an even richer experience as you learn the stories behind some of Europe's most historical sites. Cruises include WWII cruises, Politics cruises, Jewish Heritage cruises & Hapsburg cruises.
Jewish Heritage River Cruise
Step back into Jewish history on this adventure through Central Europe. Aboard your ship, a renowned expert conducts informative lectures about the sites and events that played roles in Jewish heritage. In Budapest, visit the world's second-largest synagogue. Explore the Document Neupfarrplatz museum in Regensburg with its remains of a medieval Jewish ghetto and ancient synagogue. In Prague, see the city's Jewish Museum and cemetery, then travel to Terezin, one of Czechoslovakia's largest concentration camps. Hear chilling stories about the daily lives of the Jews imprisoned there, and visit the poignant memorial.
Christmastime River Cruises
Experience the holiday season the Central European way on this festive Christmas-themed departure. Delight in the sights, smells, and tastes of local Christmas markets, where you're sure to find the perfect traditionally handcrafted souvenirs. Also enjoy Christmas carols, sung by an area chorus; attend onboard lectures to learn about Christmas and New Year's traditions in Europe; and savor a very merry Christmas holiday lunch and dinner.
Get teed up for an amazing Golf Cruise! You'll enjoy golf outings as a local golf enthusiast arranges tee times on select courses. Non-golfers won't get left behind. There is something for everyone!
Garden & Nature River Cruises
If you are passionate about gardening, you cannot miss discovering the most beautiful gardens and parks in this region, famous throughout Europe for inspirational horticultural art!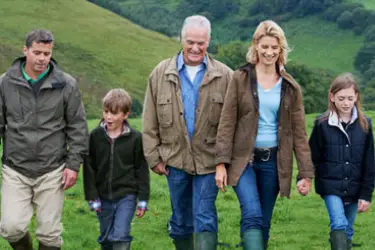 Every Uniworld Generations cruise includes special programs, events and excursions designed specifically for your world travellers in training.
Here's your chance to get up close and personal with your favourite celebrities. Past sailings have featured celebrated author Diana Gabaldon, singer-songwriter Jann Arden, and Scottish actor and author Graham McTavish.
For more information on theme river cruises:
Call Murdoch Travel
705-734-3534
1-877-205-3815